Sell my house fast in

Baltimore, Maryland

with an iBuyer
Contact a Specialist

(866) 655-1802

Mon-Fri 9AM-5PM EST
Baltimore

real estate

market overview
Average Monthly Rent

:

$1,268

Home Price/Value Percentage Change

:

1.10%

Median Home Value

:

$151,928

Best Time To Sell a Home

:

May

Affordability Index

:

High

Public School Ranking

:

19
Selling a home in
Baltimore, MD
If you're looking to move out of your home quick, May is the best time to consider selling in Baltimore. The average number of days it takes to sell a house is 98, and the median home value is $151,928.
There are many real estate options within Baltimore, but utilizing an iBuyer means your home could be closed within a month. By entering in some information regarding your home, its location, and its current condition, they'll provide you with an all-cash offer. They'll even take care of repairs, house showings and cosmetic fix-ups.
Location and weather
Baltimore is in north central Maryland, about 40 miles northeast of Washington, DC. It is situated at the head of the Patapsco River estuary, 15 miles above the Chesapeake Bay. Baltimore is known as Maryland's largest city and economic center. With over hundreds of identified districts, Baltimore has also been dubbed a "city of neighborhoods".
This city is the center of higher learning and has over 10 different universities to offer, including John Hopkins. Baltimore even maintains a strong sports culture, being home of the MLB's Baltimore Orioles and the NFL's Baltimore Ravens.
In Baltimore, the summers are hot and humid, while the winters are cold and windy. The summer temperatures are in the 80's, with lows in the 70's. Winter temperatures are in the 40's, with lows in the 30's.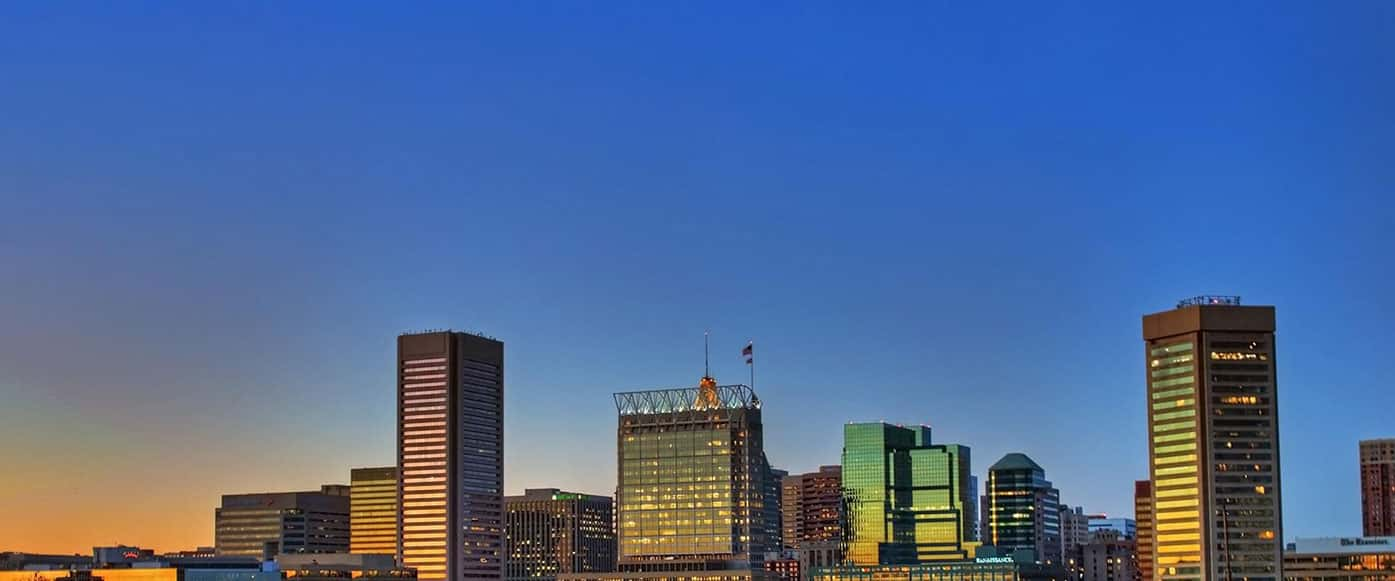 Population, job market and
cost of living
Baltimore's population in 2019 was 619,796 with a growth rate of -0.1%.
The job growth has increased by 0.58% over the last year and in ten years, is predicted to have increased by 25.13%. The major industries are health care, social assistance, educational services and retail trade. Major companies to work for are Social Security Administration, Laureate Education, Inc., John Hopkins Medicine, John Hopkins University and McCormick & Company.
The cost of living is low, due to the Baltimore real estate market and cost of available housing. With prestigious universities, a strong historic and art related culture, it's own national sports teams and various thriving neighborhoods, Baltimore will appeal to those that want to live in a cosmopolitan city.
Baltimore

real estate

market details
Hottest neighborhoods
Inner Harbor

Fells Point

Hampden

Mount Vernon

Canton

Downton
What is the market value
of my home?