Sell my house fast in

Eugene, Oregon

with an iBuyer
Contact a Specialist

(866) 655-1802

Mon-Fri 9AM-5PM EST
Eugene

real estate

market overview
Average Monthly Rent

:

$1,324

Home Price/Value Percentage Change

:

8.5%

Median Home Value

:

$349,466

Best Time To Sell a Home

:

August

Affordability Index

:

High

Public School Ranking

:

43
Selling a home in
Eugene, OR
If you're a homeowner in Eugene, we recommend selling in the month of August. Sales in August are 5.12% higher than the yearly average, and the median home value is around $349,000. Those who sell in July typically get a sale 12 days faster than the yearly average.
If you decide to use an iBuyer, your home will sell quickly no matter what time of year it is. After some simple questions regarding your current residence, you'll receive an all-cash offer within 24 hours. Once the transaction is finalized, you can begin moving into your new home and the iBuyer will handle the rest. It's that simple.
Location and weather
Eugene is in the Lane County region of Oregon, at the south end of the Willamette Valley. It is near the McKenzie and Willamette rivers, just 50 miles from the Oregon Coast. It's the second largest city in Oregon, and is known to be one of the most beautiful places in the state. Due to its scenic location, it's the perfect place to work-out, go biking, white water rafting, and kayaking.
While exploring Eugene, you'll have the option of taking tours, going sightseeing or shopping, and visiting markets, gardens, wineries, breweries, and casinos. Some of these include the Cascades Raptor Center, the Eugene Saturday Market, the Willamette River bike trail, Mount Pisgah and the Owen Rose Garden. Eugene also offers over eight different wine tasting tours that function in different areas all over the state.
The weather in Eugene is made up of short, dry summers and wet, cold winters. During summer, high temperatures are in the 80's and lows are in the 50's. During winter, high temperatures are in the 50's and lows are in the 30's.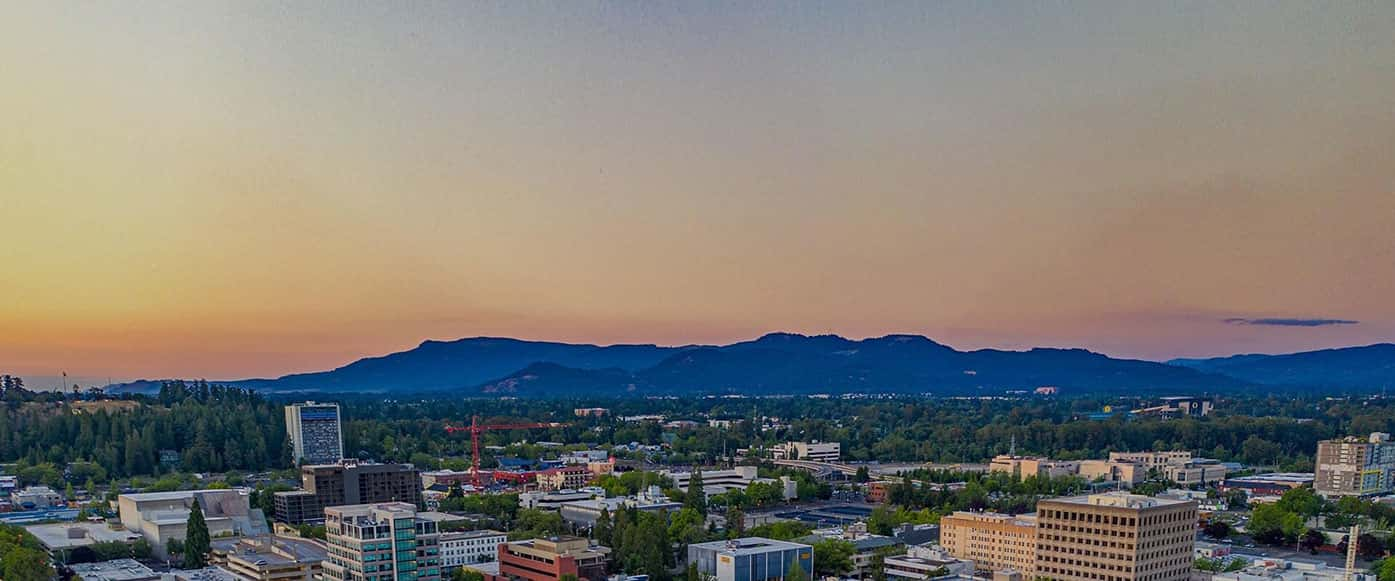 Population, job market and
cost of living
The population in Eugene is 178,329, and has a growth rate of 2.03% annually.
The job growth here has increased by 1.1% in the last year and in ten years, is predicted to have increased by 40.9%. This number is higher than the US average by 33.5%. Several major industries in this city are educational and health services, manufacturing, professional and business services, as well as trade, transportation and utilities. Some of the biggest companies to work for as a Eugene resident are the University of Oregon, Bi-Mart, Pinnacle Healthcare, City of Eugene, and Kendall Auto Group.
The cost of living here is slightly higher than the US average, making it a more expensive place to live. This hippie city in Oregon is a great place for families, young professionals and college students alike. If you're looking for a new home that embraces nature, sports and a lot of rain, Eugene might be the place for you.
Eugene

real estate

market details
Hottest neighborhoods
Crest Drive

Fairmount

Amazon

Laurel Hill Valley

Friendly Area
What is the market value
of my home?