Sell my house fast in

Honolulu, Hawaii

with an iBuyer
Contact a Specialist

(866) 655-1802

Mon-Fri 9AM-5PM EST
Honolulu

real estate

market overview
Average Monthly Rent

:

$1,725

Home Price/Value Percentage Change

:

-2.50%

Median Home Value

:

$707,246

Best Time To Sell a Home

:

September

Days To Sell a House

:

121

Public School Ranking

:

36
Selling a home in
Honolulu, HI
Currently, the average amount of days it takes to sell a house in Hawaii is 121. It takes 86 days to get an offer and an additional 35 days to close, which is 51.25% slower than the national average. In terms of pricing, the best month to sell a house in Hawaii is September. The median sale price for homes around this time is $587,000, which is $27,833 more than the annual average.
If you're looking for a more time efficient sale, considering selling in July. Hawaii homes sold in July are on the market for an average of 80 days, which is 5 days faster than the annual average. If you find yourself needing an even quicker option, it might be time to consider an iBuyer. Within 24 hours you'll receive an all-cash offer for your home. They will handle every detail of the sale, down to cosmetic repairs and stagings for open houses. With an iBuyer, the closing is usually within a month. This is less than half of the average time it would normally take to sell a home in Hawaii.
Location and weather
Honolulu is not only the largest city in Hawaii, but it is the capital. Its international airport functions as the main point of entry for tourists, and its location makes it the perfect spot for a beach-side lifestyle. Notable attractions include the Pearl Harbor National Memorial and the Iolani Palace. Popular oceanside sites include the Makalu Lighthouse Trail, The Hanauma Bay Nature Preserve and the Diamond Head State Monument. History and art of the island can be found at The Pearl Harbor Aviation museum and the Honolulu Museum of Art.
Honolulu summers are hot and dry, while the winters are mild and humid. Overall, the weather is mainly windy and clear year-round. Summer temperatures are in the 80's, with lows in the mid-70's. The winter temperatures are in the high 70's, with lows in the 60's.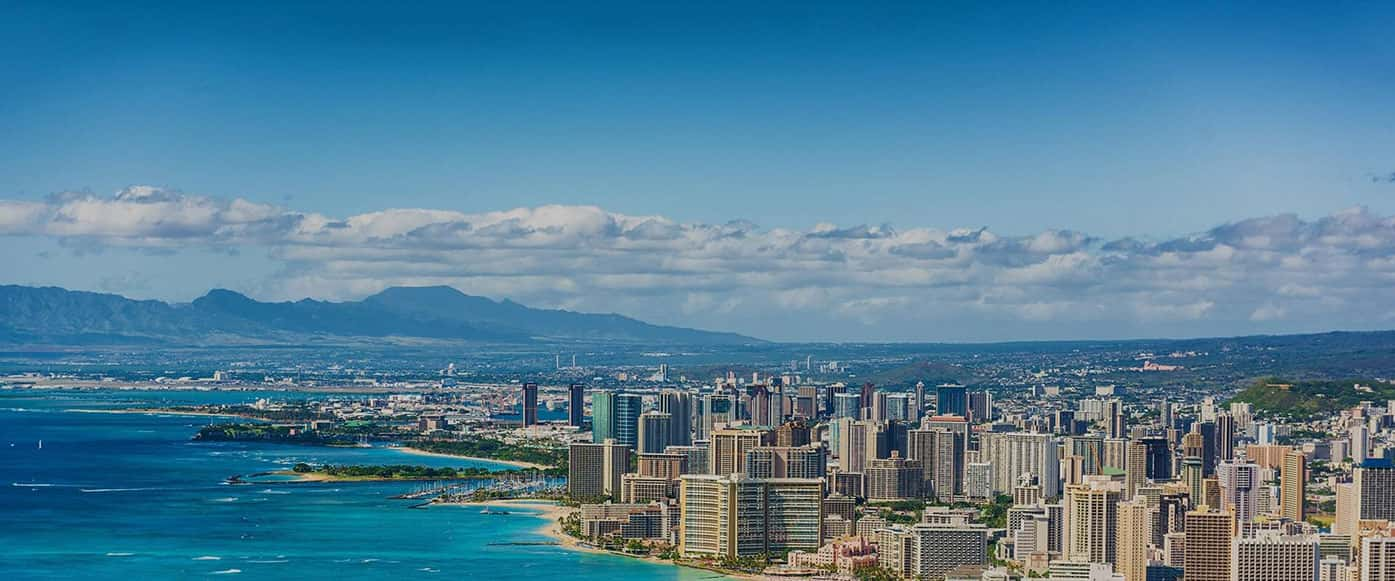 Population, job market and
cost of living
Honolulu's population in 2019 was 350,788, with a growth rate of 6.1%.
The job growth has increased by 0.18% over the last year and in ten years, is predicted to have increased by 31.05%. Major industries are accommodations, food services, health care, social assistance and retail trade. Some major companies to work for are the State of Hawaii, Honolulu Community College, Queen's Health Systems, Hawaii Pacific Health and Hawaiian Airlines.
The cost of living is high, due to the real estate market and cost of available housing. With its exquisite Pacific Ocean location, international airport, beaches and many hiking trails, Honolulu maintains its reputation as a place to enjoy a Hawaiian island lifestyle, in an urban beach setting.
Honolulu

real estate

market details
Hottest neighborhoods
Nwaikiki

Kaka'akoi

Manoa

Kaimuki

North Shore

Ewa
What is the market value
of my home?