Sell my house fast in

Providence, Rhode Island

with an iBuyer
Contact a Specialist

(866) 655-1802

Mon-Fri 9AM-5PM EST
Providence

real estate

market overview
Average Monthly Rent

:

$1,873

Home Price/Value Percentage Change

:

8.5%

Median Home Value

:

$247,135

Best Time To Sell a Home

:

August

Affordability Index

:

High

Public School Ranking

:

52
Selling a home in
Providence, RI
In Providence, the median home value is around $250,000. Whether you're looking to relocate, or simply hoping to move into a new home, your best bet is to sell in either August or September. During August, homes sell for up to 18% more than the yearly average. During September, homes sell 25 days faster.
If you're looking to earn the most for your home, in the shortest amount of time, an iBuyer is your best bet. iBuyers work to give their customers the quickest sale of any other real estate alternative. After purchasing your home, they will take care of the seller responsibilities that follow, such as open houses, marketing, and repairs. While you may receive a slightly smaller profit, not having to endure the stress of showings, staging and marketing, proves to be worth it.
Location and weather
Providence is located in Providence County, and is the capital of Rhode Island. It was one of the first cities established in the US and is one of the most populous cities in Rhode Island. It resides at the mouth of the Providence River, near the Narragansett Bay. Providence is home to many hospitals and opportunities for higher education. It maintains a community that values art and a high quality of living. This city was named one of the top 25 best places to live on the East Coast, due to its low unemployment rate and affordable cost of living.
Considering it's the oldest city in Rhode Island, the homes here look similar to other New England cities, but at a lower cost. Providence is known for having a thriving night life, mouth-watering food options, and annual festivals. It is also home to Federal Hill, which is one of its most popular tourist attractions. Also known as Little Italy, this area is full of coffee shops, food markets, shopping boutiques and Italian restaurants.
In Providence, it's partly cloudy year-round. The summers are warm, while the winters are cold and wet. Summer temperatures have highs in the 80's and lows in the 50's, while winters have highs in the 40's and lows in the 20's.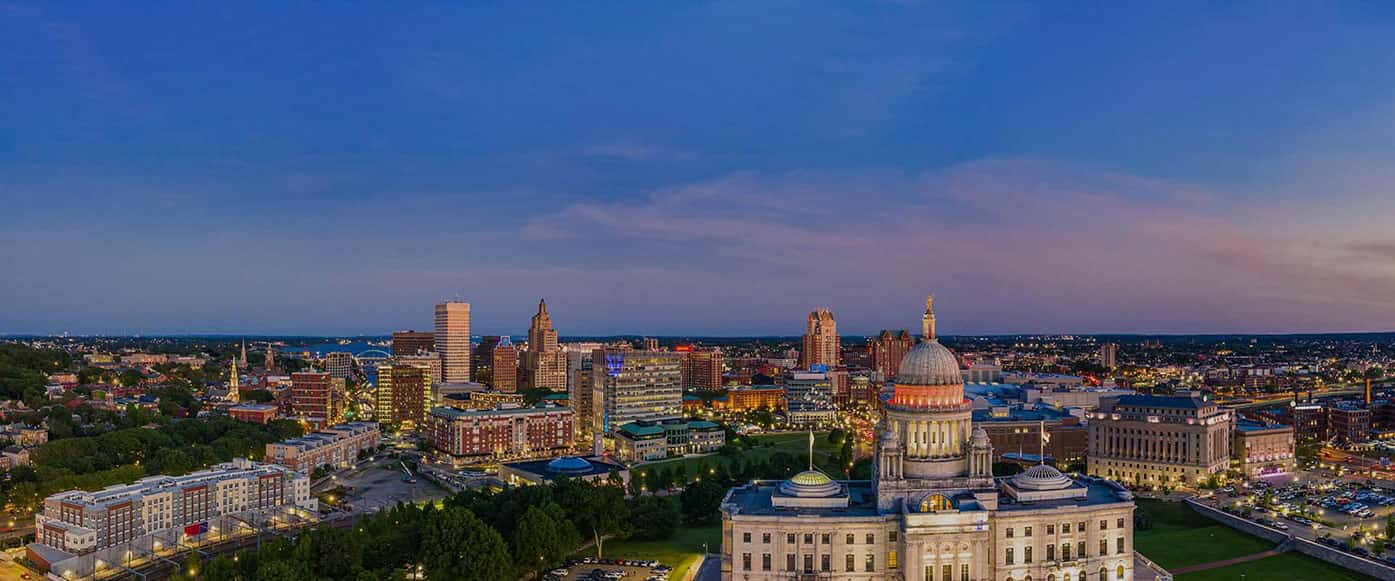 Population, job market and
cost of living
The population in this city is around almost 180,000.
The job growth here has increased by 1.5% over the last year and in ten years, is predicted to have increased by 28.6%. Several of the top industries in this city are agriculture, fishing, manufacturing, tourism and the service industry. A few large companies to work for include Textron, Citizens Financial Group, Nortek, United Natural Foods and NTK Holdings.
The cost of living in Providence is higher than the national average, making it a more expensive place to live. Although, it is less than the states average, which makes it a more affordable city in Rhode Island. Considering the increasing job growth and affordable cost of living, this city in Rhode Island proves to be the ideal home for young professionals and families alike. If you find yourself home hunting in Rhode Island, be sure to check out the New England-styled streets of Providence.
Providence

real estate

market details
Hottest neighborhoods
Blackstone

Down City

Fox Point

Federal Hill

College
What is the market value
of my home?